ISLE OF TRIUMPH AT BARBER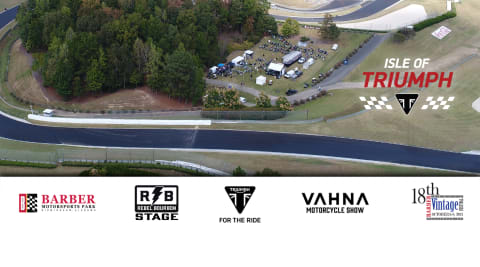 TRIUMPH BRINGS "ISLE OF TRIUMPH"

TO BARBER VINTAGE FESTIVAL OCTOBER 6TH – 8TH, 2023
Triumph Motorcycles will introduce the immersive "Isle of Triumph" fan experience, during the 18th Barber Vintage Festival at Barber Motorsports Park near Birmingham, AL from October 6th through 8th, 2023.
Recently celebrating its landmark 120th anniversary, the iconic British motorcycle brand will lean on this heritage to transform the festival's infield into an engaging moto haven celebrating the culture and lifestyle of its riders.
Taking over what was formerly known as Ace Corner, admittance to the "Isle of Triumph" is no additional cost to Barber Vintage Festival ticketholders. Registration is required and guests can pre-register at TriumphMotorcycles.com.
The Rebel Whiskey Stage will be a focal point at the Isle of Triumph and will feature live music and a variety of daily interviews and presentations. Daily schedule to be released.
The VAHNA Motorcycle Show will display 30 motorcycles in the heart of the Isle of Triumph space, with the top three winners receiving awards and prizes from Triumph Motorcycles, Danner Boots, and more. The inaugural show will be an open-class show, with all entrants receiving Barber Vintage Fest Admission and an Isle of Triumph Tee Shirt. Interested owners may submit their motorcycle for this year's show using the Submission Form at TriumphMotorcycles.com.
Visitors can also browse the selection at the Triumph clothing store, view art installations, with lunch, dinner and drinks from dedicated food trucks and bars. The area will also feature bespoke vendors such as Nashville's H BAR C, and activations from local radio stations 102.5 The Bull and 103.1 The Vulcan.
Of course, the primary attraction at Barber Vintage Festival is three full days of vintage motorcycle racing, and guests at the Isle of Triumph get access to the best viewing area in the park. Perched atop a hillside at turn 15, spectators enjoy unparalleled views of the technical turn as it leads into the straight away to the finish line, as well as distant views of turn 5 and the mid-track straight away between turns 10 and 11.
One tram stop away from the Isle of Triumph, the Triumph Factory Demo Truck will be in the demo area, where licensed riders with a valid motorcycle endorsement and complete riding gear can choose from the full range of 2024 Triumph Motorcycles to take on a 20-minute self-guided test ride.
Adam VanderVeen – Marketing Director, Triumph Motorcycles America
"We are very proud to introduce the 'Isle of Triumph' for all riders to enjoy at this year's Barber Vintage Festival. This space has been one of the most cherished areas of the entire event for attendees, and it's a privilege for Triumph to partner with Barber Motorsports Park to re-open the infield. Our aim is to create a destination that celebrates motorcycle lifestyle, where guests will look forward to returning year over year."
Regular updates to schedule of activities and partners can be found on the Triumph Motorcycles event website.